One of the more interesting sessions at the Associated Collegiate Press conference earlier this month featured high-energy Callie Schweitzer, editor in chief at Neon Tommy.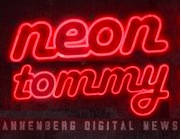 As Schweitzer noted a couple times, Neon Tommy is not a gay porn website, but one of the most-read college online publications going. It's attracting a lot of visitors with a combination of smart journalism and savvy aggregating of other stories that interest its readers, whether that's news, sports or celebrity gossip.
"Journalism tells the story of our lives and of our world, and that is something to be passionate about," Schweitzer says in a new "On the Media" column by James Rainey of the Los Angeles Times.
The article offers interesting background about the innovative website managed by students of the Annenberg School of Journalism & Communication at the University of Southern California. As the article notes, these young journalists are showing why they must be just as adept at distributing the news through channels such as Twitter and Facebook as they are at gathering and reporting the news with their journalism talents.
"Students promote their work in real time, highlight the best stories by others on the Web and repurpose old content with new analysis," Rainey writes. "That's only a start, as they push their journalism through myriad channels to reach a maximum audience.
"They must be doing a few things right just west of the Harbor Freeway because, two years after its birth, Neon Tommy draws a larger audience than any other Web-only college news site."
Schweitzer offered a number of tips to fellow collegiate journalists during her ACP talk, "How to Become a Must-read Professional Publication," beginning with:
Cover real-world issues
Go beyond campus to expand your audience
Find angles neglected by the mainstream media
Give readers added value, she said.  Write stories featuring experts on campus. Be smart. Be innovative.
"Look for the student angle in everything," she said.
"At the end of the day, this is all about helping people," Schweitzer said. "If you're a journalist and you have a question, you have a responsibility to answer it."
As passionate as she was about her ACP topic, she was just as enthusiastic about encouraging young journalists to ignore the gloom and doom that seems to surround the media these days.
"We have to stick with journalism," she said, "because the world is counting on us."
Schweitzer also was asked about social media and blending personal and professional personas, which Neon Tommy has used effectively to build its audience.
"When people follow you, they want to follow all of you," she said. "I think it's good to be who you are and put yourself out there."
As with Neon Tommy observers quoted in Rainey's L.A. Times article, LBCC journalism students who attended Schweitzer's talk in Hollywood were similarly impressed, and eager to adopt some of the website's best practices for The Commuter in the weeks and months ahead.
-rp-